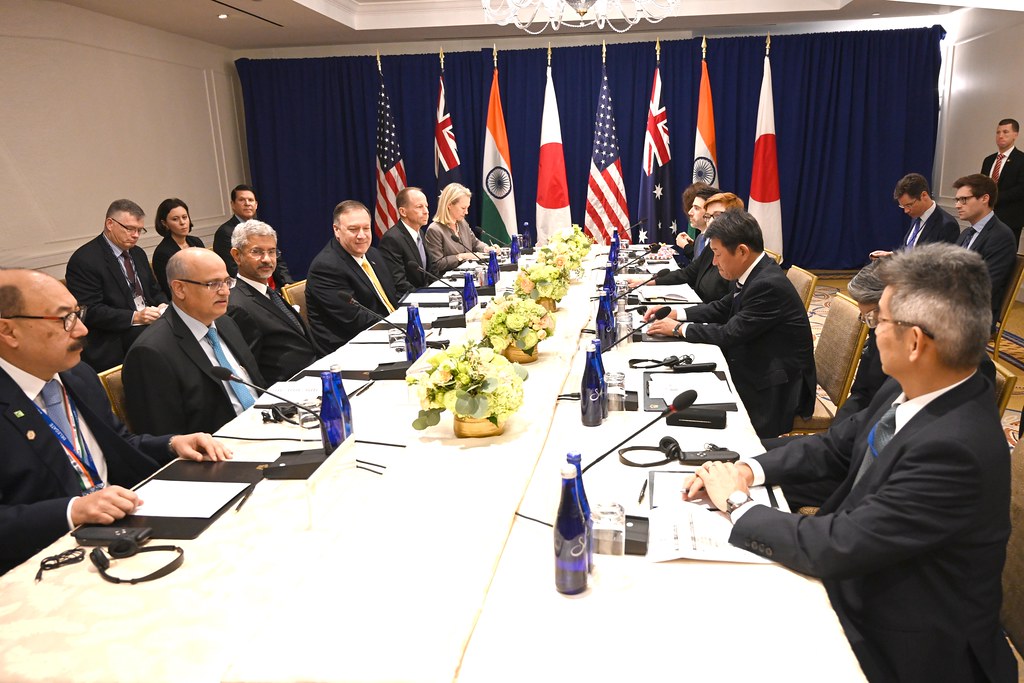 Quad – An idea whose time has come
The French poet and novelist Victor Hugo had said, "Nothing else in the world, not all the armies are as powerful as an idea whose time has come." Has the Quad, short for the Quadrilateral Security Dialogue, transformed into an idea whose time has come? The recent summit meeting of the four leaders of Australia, India, Japan and the USA indicates that the Quad is gathering some momentum.
Undoubtedly, the Quad is a direct result of China's heavy-handed and aggressive territorial expansionist policy around its periphery in the South China Sea (SCS), Ladakh and Hong Kong. China's professed claim that almost the whole of SCS falls within its territorial waters was a blatant land grab and a looming threat on crucial sea lines of communication.
Additionally, China's constant threat of invading Taiwan and its humongous multicontinent strategic connectivity project, the Belt and Road Initiative [BRI], are clear signals of China's belief that its time has come to assert itself, as the next superpower, challenge the USA for supremacy, browbeat all countries and impose a China-centric international order.
The Quad idea emerged in 2007 when the leaders of the four countries met separately during the ASEAN Regional Forum. This was the first summit consultation which was dubbed later as Quad 1.0, an initiative whose roots go back to Japan's PM Shinzo Abe's idea, aired in 2006, of forming a group of democracies to deal with the growing challenge of a rising China in the Asia- Pacific region.
The Quad also harks back to the ad hoc Tsunami Group of these four countries, as a disaster management initiative in 2004. The idea of this partnership between democratic nations obtained traction when Indian PM Manmohan Singh and Abe called for an alliance between democracies in the Asia-Pacific region.
The Asia-Pacific nomenclature changed when President Trump renamed it to Indo-Pacific, much to China's dismay. Australia and the USA got on board on Quad in 2007. China pushed back aggressively and targeted Australia which turned lukewarm, given its huge economic stake in economic ties with China. There followed a decade of fudging till China again bared its teeth. The first ministerial meeting, held in September 2019 was a direct result of China's aggressive behaviour and the Covid pandemic that it had unleashed on the world.
The announcement of the second summit meeting has drawn a guarded response from China which has "hoped" that the meeting will be "conducive to regional peace and, stability and prosperity" and any regional cooperation architecture should follow the principle of peaceful development and win-win cooperation. "We hope the relevant countries will keep in mind the common interests of the regional countries uphold the principles of openness, inclusiveness and win-win cooperation and do things that are conducive to regional peace stability and prosperity rather than the opposite," said the official spokesperson of China's Foreign Ministry. As always, China's tone changes like a chameleon changes its colours. But that has always been a part of China's toolkit. If there is one reason for the Quad acquiring greater geopolitical traction, it is clearly China's aggressive behaviour.
China has also bristled at the announcement that the Quad will cooperate in increasing India's vaccine production for supply to Asian and African countries. China has used vaccine diplomacy to recover lost ground and regain trust that it had lost because of its opaque and evasive response at the initial stage to the Covid pandemic, first detected in Wuhan. Meanwhile, neighbouring Japan has announced assistance for developing cold chains, refrigerators and transportation for countries in need.
This assistance programme seeks to counter China's vaccine diplomacy. The USA has adopted a "me first" approach to vaccines, insisting on vaccinating Americans first and selling only the surplus. China's reaction has again been guarded. It has supported international vaccine cooperation and rejected vaccine nationalism and politicisation and highlighted its effort to produce 17 different vaccines and supplying them to over 60 countries.
The Quad's potential to re-engineer geopolitical realignments can have significant impact on China's relations with Asian countries, particularly the three countries in the Indo-Pacific. The Biden Administration seems to be moving towards energising the Quad, having decided that China is already a significant challenger and competitor, as well as a security threat to the USA and her allies and partners in the Indo-Pacific. US Secretary of State Antony Blinken has named China the "biggest geopolitical test of the 21st century".
While the Biden Administration has continued with President Trump's approach to China, it seeks to nuance its methods, particularly in its stress on multilateral approaches to dealing with China. President Biden has made some controversial foreign policy moves by targeting Saudi Arabia's Crown Prince. Nor has his Administration made any headway in re-negotiating the nuclear deal (JCPOA) with Iran. President Biden has several domestic challenges, both economic and social to overcome, without which his foreign policy may well run out of steam. Military strength is not enough to challenge China. Economic issues like supply chains will also require re-working.
Media leaks in India about approval to certain Chinese investments may well be signals to China that India may roll back restrictions but this will be linked to China's restoring the status quo along the LAC in Ladakh. There is no guarantee that even if the status quo is restored, China will adhere to agreements, given its disregard of bilateral agreements on the LA C. The onus is on China to rebuild trust. The willingness of Chinese companies to invest in India is premised on the Chinese approach that the border dispute should not be linked with economic issues and trade.
The banning of Chinese digital apps and other economic restrictions are India's way of saying that China cannot have a win-win on the economic front and India lose-lose along the LAC.
This is a significant because returning to the status quo on the economic domain is important for China to access India's large and growing market. China has complained to the WTO on India banning digital apps. India may also exclude China's telecom countries from participating in Indian projects.
China remains the largest trading partner of India and other Quad members. India stayed away from the RCEP but Australia and Japan are members, underlining the economic heft of China. How to balance economic linkages and limiting China's expansionist agenda will be the ultimate navigating challenge for the Quad member countries.
(This was first published in The New Indian express)