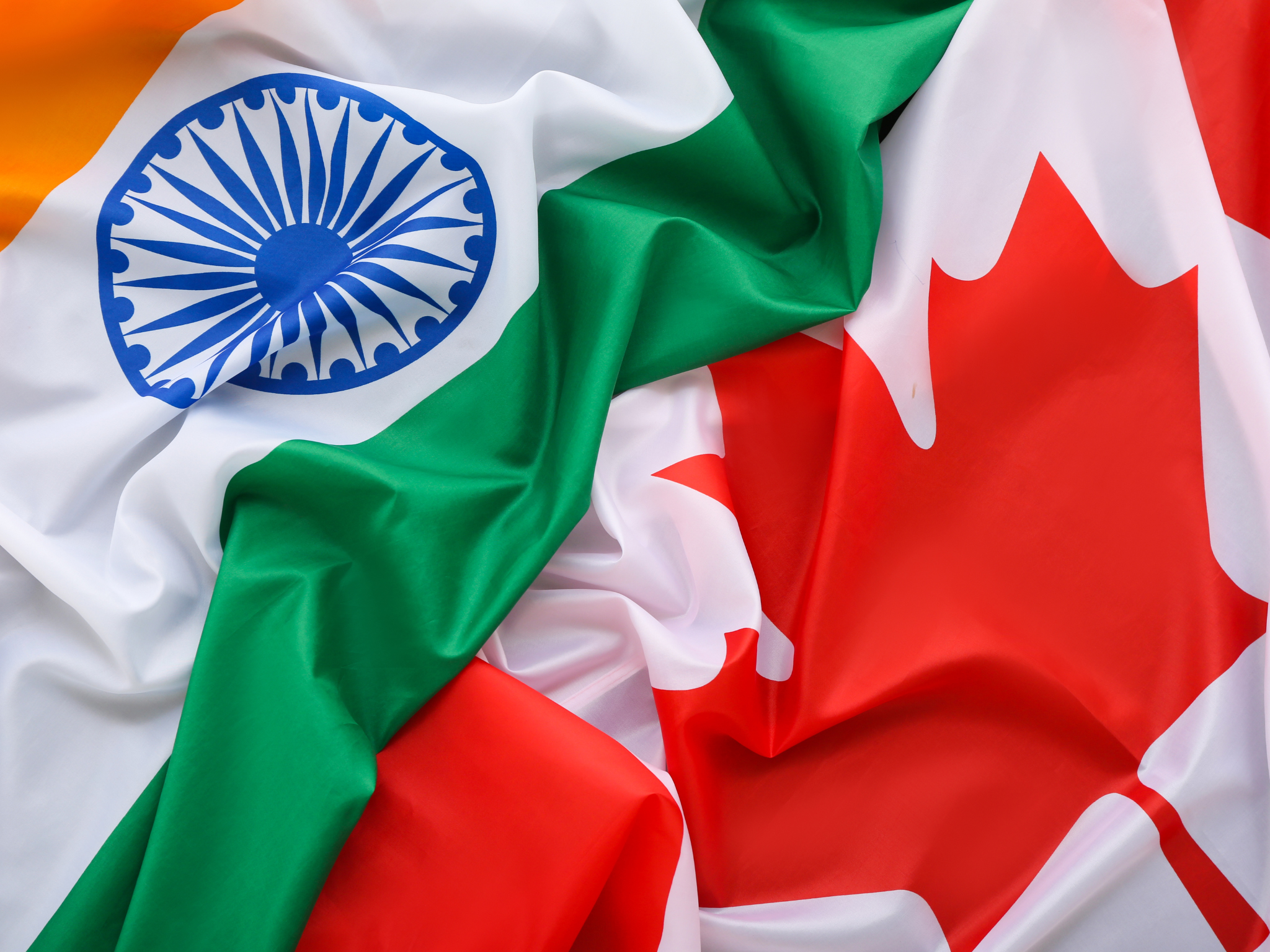 Indo Canada Ties in the aftermath of Nijjar Killing
Returning home from the G20 Summit, Canadian PM Justin Trudeau, wasted little time  to call for a special session of Parliament and  accused India of complicity in the killing of the Khalistani terrorist Hardeep Singh Nijjar. Nijjar was wanted in India for several violent crimes and carried a reward for his capture in India. Trudeau said that there were "credible allegations" but provided no evidence.
Trudeau's allegations sent bilateral ties hurtling rapidly southwards. Trudeau was smarting from his dressing down by PM Modi after he raised the issue with him. PM Modi summarily rejected his allegations and raised the issue of his government's patronage to terrorists and not addressing India's concerns. The fracturing of bilateral ties was waiting to happen and began with halting trade negotiations before the G20 summit. That he was sulking was clear from his boycotting Indian Rashtrapati's formal dinner for G20 leaders.
Following Trudeau's statement in Parliament, a senior Indian diplomat was expelled. He was the head of the R&AW unit of the Indian High Commission.   Soon thereafter, another Khalistani terrorist was gunned down in the internecine gang war in Canada. A Punjab politician was assassinated recently in Moga and one Canada-based Khalistani terrorist-gangster, Arshdeep Singh Gill, alias Arsh Dalla, took responsibility for the murder in a Facebook post.
India's response has been robust. The MEA called Trudeau's statement "absurd". It was widely regarded as baseless and motivated. The Canadian diplomat who heads their intelligence unit in the New Delhi High Commission was expelled by India.  Both countries issued travel advisories warning their respective citizens to be careful of their safety. India's advisory was strongly worded accusing the Trudeau government of harbouring anti-India terrorists. India has suspended issue of visas to Canada and has upped the ante further by enforcing parity in the number of diplomats posted in each other's country. The parity principle will force Canada to reduce its diplomats in India.
Trudeau's desperate attempts, to rope in Australia, UK and the US, in going public with condemning India before the G20 Summit, did not fructify. These G7 countries did not cooperate in this subversive attempt by Trudeau. They have, however, expressed "concern" after Trudeau went public with his allegations and wanted India to cooperate in the investigation. Canadian politicians loftily claim that Canadians must feel safe in their country. Do they  mean that they should feel safe to conduct terrorist attacks in India without hindrance?
Meanwhile, US-based Khalistani terrorist Gurpatwant Pannun has warned Hindus to leave Canada because they do not support the call for Khalistan. Pannun, incidentally, claims to be Nijjar's lawyer and is the first to raise allegations against India being involved in the killing. Poster of Indian diplomats in Canada have been pasted in public asking for their assassination by Pannun's organization, Sikhs For Justice [SFJ]. Canada's role in protecting and patronizing Khalistani terrorists has been the most egregious. Khalistanis have all been allowed to settle under asylum laws under which these Khalistanis seek refuge, citing persecution in India. This has become the conduit for migration. Freedom of expression is the principle trotted out to enable these Khalistanis to run amok.
It is a strange coincidence, attacks against Indian consulates, temples and diplomats have taken place in English speaking countries [Anglosphere] which are close allies and members of a common intelligence sharing group [5-Eyes]. The US heads the list of countries conducting international extra-judicial killings, in pursuit of its geopolitical interests. It has carried out assassination attempts on foreign leaders like Cuba's Fidel Castro, Libya's Muammar Gaddafi, Saddam Hussein and many more. There has not been a squeak out of Trudeau against these extra-judicial killings.
India-Canada ties have been strained for a long time since the 1980s when the Khalistan movement started and now worsened under the Trudeau government. Canada 's Indian diaspora is a large one, with the Sikh community numbering around 7.5 lakhs out of the total of 16 lakhs – more than 3 % of Canada's population. Around 2.3 lakh Indian students are in educational institutions in Canada. There is a long history of India's frustration with Canada's casual and dismissive attitude towards India's concerns on terrorist activities being carried out from its soil. Canada has also been provocatively refusing visa to individual officials of the Punjab Police and the CRPF by unilaterally claiming that these Indian organizations have been accused of human rights abuses in Punjab. This is a direct result of the Trudeau  government's pandering to the Khalistani terrorist lobby in Canada.
The most heinous of Khalistani terrorist crimes, abetted by Canada, was the bombing of Air India's Kanishka by Khalistani terrorists in 1985. 329 people perished in the crash, mostly Canadian citizens of Indian origin. Till date no one has ever been punished for this ghastly crime, though the conspirators were known. Canada's callous handling of this tragedy extended to refusal of help to family members of the deceased in Cork, Ireland. It is also clear that Canadian authorities ignored warnings about the plot to bomb Kanishka and helped the conspirators go scot-free. The Justice Major enquiry commission noted that that Kanishka bombing was "the largest mass murder in Canadian history and was the result of cascading errors". Justice Major made stinging comments on the Canadian agencies RCMP and CSIS and their lack of cooperation in the investigation. Domestic politics and guilt complex resulted in justice getting trumped.
The enquiry commission report also criticized Canada's higher authorities, including the PMO which was more interested in politics and avoiding responsibility and liability for the tragedy which  occurred because of its utter callousness. The Canadian government trotted out lies and obfuscated the enquiry to prove that they were no lacunae in the security system. We now know that it was a blatant lie. The Kanishka crash left a scar on bilateral ties because of the duplicity and dodgy approach of the then Canadian government. Canada's approach under the Trudeau government has not changed.
There are 9 terrorist organizations that have safe haven in Canada. No action has been taken against terrorist and gangsters who have killed Indian citizens like the singer Sidhu Moosewala in India. Canada has provided a blank cheque to Khalistani terror groups like the WSO, KTF and SFJ to liaise with Pakistan's ISI and plan terror attacks in India. These groups have regularly and publicly issued assassination threats, promoting the Khalistani agenda and carrying out targeted killings in India. They are also involved in drug and human trafficking.
Nijjar was in regular contact with CSIS, the Canadian security and intelligence service.  He visited Pakistan in 2013-14 to tie up operations in India with the KTF's Jagtar Singh Tara, wanted in assassination of Punjab former chief minister Beant Singh. He was roped in by the ISI which helped him set up secret training camps for Khalistanis in Missigen Hills, British Columbia, Canada. There is a 10 lakh award declared in his name  and Interpol has declared a red corner notice against him but India's multiple official requests for deportations of wanted terrorists and gangsters, supported by dossiers, have been brazenly ignored by Canada. No action on Interpol notices have been taken by Canada. Nijjar's name was in the list handed over by then CM Amarinder Singh to Trudeau during the latter's 2018 visit which was low on substance but high on pageantry.
Following India's robust response, Trudeau has said that he was not looking to provoke India or escalate the issue, adding a moral sermon on respect for international law and the rules-based international order. It is now well- known that Trudeau prevented reconciliation efforts between the Indian government and as section of Khalistanis who were keen to avoid any further friction with India.
So why has Trudeau gone out on a limb? It would seem that domestic politics, his plummeting approval ratings and his own Liberal Party looking to replace him as leader have introduced a sense of desperation. The other reason is the US has egged him on so create pressure on India. The US is unhappy that India has refused to condemn Russia for the Ukraine war. The US has claimed that it had passed on intelligence to Canada. The US's culpability in this spat is quite evident. It set up Canada to attack India.
The phrase "credible allegations" is a conundrum. If allegations are backed by evidence, then only they acquire credibility. No evidence has been forthcoming though the Trudeau government's drip-leaking to the media points out at signal and human intelligence. The killers of Nijjar have not been traced since the killing in June this year. The allegations were first raised by the Khalistani terrorist Pannun who claims to be Nijjar's lawyer and Khalistani sympathizers who work as agents for the Canadian CSIS. Pannun himself is suspected to be a CIA agent.
Canada today has the full support of only one country i.e., Pakistan, a known terrorist state. Canada cannot be proud of this distinction. Trudeau's political compulsions are acute. He has to retain support of the pro-Khalistani New Democratic Party to keep his coalition in power. He has to pander to the Khalistanis who want to deflect attention away from their internecine gang wars and implicate India. Whether Trudeau fell into this trap, carefully laid by various actors, including the US and crossed the Rubicon only time will tell.